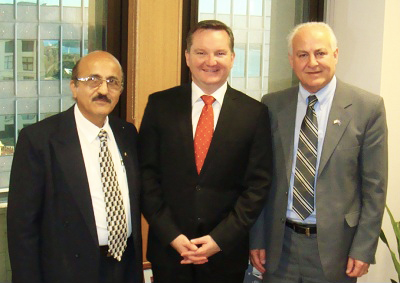 On 14 September 2012, a delegation headed by Mr. Hermiz Shahen, Deputy Secretary General of the Assyrian Universal Alliance (AUA) and Mr. David M. David , President of the Assyrian Australian National Federation met with the Hon. Chris Bowen MP, Minister for Immigration and Citizenship.During which an official letter was presented to the Minister in which explains the tragic and dangerous situation that our people are facing in Iraq and Syria. The AUA proposed a plan of action and resolutions requesting to take the discussion further with the Australian authorities.
On this very important issue we are pleased to announce that Mr Chris Bowen MP made an announcement at Federal Parliament of Australia (via a Question without Notice) on this issue on Thursday 13 September 2012. The following is an extract from his speech:
We have all watched the humanitarian crisis in Syria in horror–250,000 people have fled Syria for Lebanon, Turkey, Jordan and Iraq. The humanitarian situation in Damascus has deteriorated rapidly. Over 100,000 people have fled Syria in the last month alone and thousands more are fleeing Syria every day. High Commissioner Guterres expects that a further 650,000 people will leave Syria in coming months, bringing the total to almost one million people. One of the most disturbing facts about this crisis is that many of the people who have been forced to leave themselves sought refuge in Syria. Over the past 10 years many people have fled Iraq and taken refuge in Syria, and now they are again being forced to leave and seek refuge in another country.
Of course, Australia is helping. We have committed $20 million in food assistance and medical assistance, making us the fourth largest bilateral donor in the world. Today I have announced another significant contribution. As part of the government's decision to increase the humanitarian intake to 20,000 people, I can announce today that we will resettle an extra 1,000 people from Syria. These UNHCR mandated refugees will be resettled over coming months. This will include both Syrian nationals and members of the Iraqi community who have previously been forced to leave Iraq and take refuge in Syria. This includes Assyrians, Chaldeans, Syriacs and Mandaeans. Many of these refugees we resettle will already have significant family links to Australia.
This government is committed to ensuring that those in urgent need of resettlement get the chance of a better life in Australia. Many of those who have fled Syria will want to return when it is safe to do so, but many others simply will not be able to do so. Proximity cannot be the determinant of our obligation to help people in desperate circumstances.
Today's announcement is only possible because of our decision to increase the humanitarian intake to 20,000 people. Our humanitarian program can never take all or even most of the people in need in Syria or anywhere else, but we can do our part. The announcement today says to people in desperate circumstances in Syria that those for whom the Arab Spring has turned to winter have a friend and a supporter in Australia.
On behalf of the Assyrian Universal Alliance-Australia Chapter and the Assyrian Australian community, we would like to thank The Hon. Chris Bowen MP, Minister for Immigration and Citizenship, for the opportunity to meet with him and for his sincerity and outstanding effort over the years in raising the Assyrian issue with the Australian Government.
We hope this meeting achieves a positive outcome for the needs of our Assyrian people in Iraq and Syria.
For more information visit the following links:
Minister's statement to Parliament
Media Release
YouTube video
Assyrian Universal Alliance (AUA)