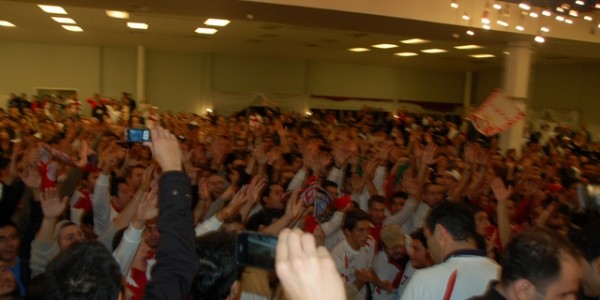 SENIOR There is no doubt about which team has the best players, which team is the big brother and which team that is best in Södertälje, it is no other than the fantastic Assyriska Fotbolls Förening.
For every Assyriska supporters, you will feel joy every time our team wins a game. You will also feel frustrated whenever we rule the game but we don't get the points we deserved. Sometimes, you even get disappointed when you feel the players don't give 100 percent. Today we felt proud, proud that the Assyrian warriors played with their hearts and proud that we have dominated and won the battle of Södertälje.
Whenever you play a derby, it doesn't matter where you are in the table. Most of the time, it is all about the heart and proud of the shirt that you are wearing. We have experienced that before and we have learned our lesson. From the first minute, Assyriska gave everything they got and took command. Four minutes into the game, Xhevdet Llumnica came free after a good combination and gave us the early goal that we needed.
You would expect that the home side would try for the equalizing goal but the Assyrian defence with the best player Oscar Berglund were firm and aggressive and didn't allowed them to do much. Instead, Assyriska were really close to double its lead when Llumnica came free once again but the keeper made a good save.
On the second half, Assyriska kept on dominating the game. Östlundh delivered crosses, Llumnica and Göran Marklund made the Syrianska defenders look like beginners and the flanks were completely ours.
The last 15 minutes, the Assyriska players started to play defensively to keep the lead which gave Syrianska the time they needed to build up an attack. Some of which could give them the goal they didn't deserve. Luckily, Oscar Berglund gave the almost 7,000 spectators the show they came for to see and saved everything. It was like having a living wall. When the referee finally whistled for the game, the party started in the Södertälje Arena with Zelge fans and the players, went on to the Assyriska Föreningen with Zelge fans and the players and will continue and never end on every Assyrian home. You are all welcome to enjoy this football party and sing with us "AFF är dem bästa, ända sen 74!"
Best players
*** Oscar Berlund
** Dennis Östlundh
* Xhevdet Llumnica
Next game is on Sunday 4 October at 4 pm CET against Väsby United in Södertälje Arena. If you cannot be in Södertälje, you can watch it on C Sport.
Isak Betsimon