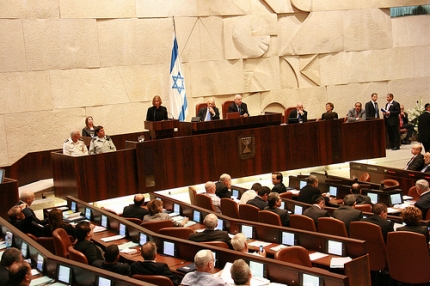 In a significant milestone for efforts towards the worldwide recognition of the Assyrian genocide, nearly thirty internationally renowned holocaust and genocide scholars, and Assyrian and Greek social, cultural and religious groups, have written to the Israeli Knesset calling for the inclusion of Assyrians and Greeks in the Knesset's forthcoming legislation on remembrance of the Armenian genocide.
The letter, sent on January 27 by the Assyrian Genocide Research Center to numerous members of the Knesset of the State of Israel, noted that hundreds of thousands of innocent Assyrians and Greeks "faced targeted killings, rape, abuse, destruction of home and villages and the razing of churches at the hands of the Ottoman Turks and their Kurdish allies" during the Ottoman campaign against Christian minorities of the Empire between 1914 and 1923.
While the better-known genocide of Armenians has garnered more international attention, Assyrians and Greeks worldwide have campaigned passionately for the recognition of their genocides alongside that of the Armenians. "Many do not know", the letter notes, "that genocide was also committed against other ethnic groups, namely the Assyrians and Greeks, who were living from time immemorial on their ancestral lands, which were within the borders of the Ottoman Empire in 1914."
Despite the extensive corpus of academic research and archival material proving the reality of the genocide, the Turkish Republic has until now refused to formally recognize the genocide of Armenians, Assyrians and Greeks. Numerous governments, parliaments and international bodies have recognized the genocide. Most recently, the Parliament of Sweden endorsed a resolution to officially recognize the Assyrian genocide, alongside those of the Armenians and Greeks.
Sabri Atman, the director of the Assyrian Genocide Research Center, praised the support garnered. "The efforts of Assyrians and Greeks in their pursuit for justice and recognition are vindicated by the support scholars given to this letter."
It is noteworthy that the majority of scholars signing the letter are members of the International Association of Genocide Scholars (IAGS). IAGS, the world's foremost group of genocide scholars, overwhelmingly recognized the Assyrian and Greek genocides in 2007, calling "upon the government of Turkey to acknowledge the genocides against these populations, to issue a formal apology, and to take prompt and meaningful steps towards restitution."
The matter of Israeli recognition of the Armenian genocide has been referred to the Knesset's education committee where hearings are expected to continue. Assyrians remain hopeful that the committee will also examine inclusion of the Assyrian and Greek genocides in any future parliamentary resolution.
Signatories to the Letter
Scholars
Dr. Adam Jones, University of British Columbia (Okanagan, Canada), and Member of the International Association of Genocide Scholars
Prof. David Gaunt, Södertörn University (Stockholm, Sweden)
Dr. Deborah Mayersen, Asia-Pacific Center for the Responsibility to Protect, University of Queensland (Queensland, Australia), and Member of the International Association of Genocide Scholars
Dr. Donna-Lee Frieze, Deakin University (Melbourne, Australia), and Member of the International Association of Genocide Scholars
Prof. Hannibal Travis, Associate Professor of Law, Florida International University College of Law, and Member of the International Association of Genocide Scholars
Dr. Henry Theriault, Worcester State College (Massachusetts, United States), and Member of the International Association of Genocide Scholars
Dr. Herb Hirsch, L. Douglas Wilder School of Government and Public Affairs, Virginia Commonwealth University (Virginia, United States), Co-Editor, Genocide Studies and Prevention: An International Journal, and Member of the International Association of Genocide Scholars
Dr. Racho Donef (Melbourne, Australia), Genocide researcher and scholar
Dr. Theofanis Malkidis, Democritus University of Thrace (Komotini, Greece), and Member of the International Association of Genocide Scholars
Organizations
Assyrian Academic Society (USA)
Assyrian American Association of Southern California (USA)
Assyrian Australian National Federation (Australia)
Assyrian Cultural Club (Poland)
Assyrian Federation in Germany and European Sections (Germany)
Assyrian Genocide Research Center — Seyfo Center
Assyrian Institute of Belgium (Belgium)
American Mesopotamian Organization (USA)
Assyrian Solidarity Association (Switzerland)
Assyrian Universal Alliance (Australia & New Zealand Region)
Assyrian Youth Federation (Sweden)
Australian Assyrian Arts and Literature Foundation (Australia)
Beth-Nahrin Cultural Club (Australia)
Diyarbakir TurAbdin Assyrian Association (USA)
Federation of Pontian Associations of Australia (Australia)
Firodil Institute (United Kingdom)
Inanna Foundation (The Netherlands)
Iraqi Christian Relief Council (US
Panepirotic Federation of Australia (Australia)
Syriac Institute of Belgium (Belgium)
By Joseph Haweil