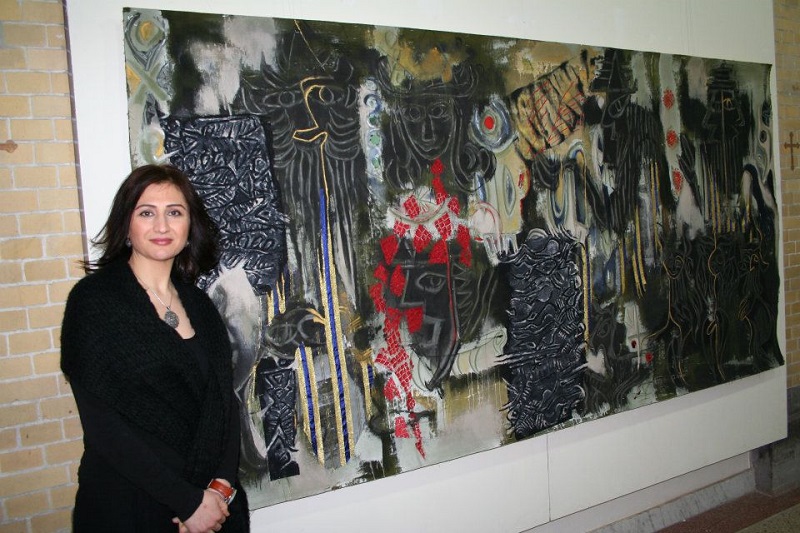 Gothenburg, Sweden (AINA) -- From May 10 to June 2, 2013 Nahrin Malki's artwork was exhibited at the Galeria Miejska Arsenal in Poznan, Poland. The paintings shown were selections of her art created between 2009 and 2012 in The Netherlands.
More than two dozen large-format paintings using many saturated colors, inspired by the ancient Assyrian culture, like imprints of roll cylinder and other Mesopotamian symbols, were at display. During the depicted period Nahrin Malki also created a series of large paintings in black and white colors, dedicated to the genocide of Assyrians in 1915.
What makes this exhibition exceptional is the fact that Nahrin Malki was chosen as a representative of modern art from The Netherlands to represent the country in Poland. The exhibition was sponsored by the Dutch embassy.
On the opening day of the exhibition, the renowned Dutch art historian and curator, Professor Elvira van Eijl, introduced Nahrin Malki and her art. The introduction was also printed in the exhibition catalogue.
Nahrin was born in Mesopotamia, in the Assyrian city of Qamishly, which is in the very North-East of Syria. Qamishly is on the direct border to Turkey and a stone's throw away from Tur Abdin. She graduated from an art school in Qamishly in 1993, where she learned about the techniques of drawing, painting, printing and etching.
Historically, Qamishly is well known for being established by Assyrian survivors of the genocide perpetrated by the Ottoman Turks in 1915. Hence the trauma of the genocide is an intergenerational experience which impacts lives of Assyrians until today. This is strongly expressed by the art of Nahrin Malki.
"Nahrin comes from a very old culture and remembers the stories told by elders about the genocide of her people — stories of abuse, war, starvation and the persecution of thousands of refugees, " says Prof. Elvira van Eijl. "She realized that this misery is not only part of her personal life story but also that of so many other people around the world. The suffering of human beings is alas a continuous universal problem."
Nahrin Malki immigrated to Sweden in 1997 with her parents and started her career there as an artist in Gothenborg, where she lived for four years. She married an Assyrian activist, and has been living with him in The Netherlands since 2001.
Arriving in The Netherlands Nahrin started her studies at ArtEZ Institute of the Arts in Enschede and enhanced her skills. According to Prof. van Eijl, "She discovered that there is more about art than just technical skills. She knew she had so much to tell and so much to show to the world through her art. To accomplish and fulfil her wish to learn to speak the language of art more profoundly, she went back to the Art Academy to professionalize her artistic skills and vision." Prof. van Eijl characterizes her paintings as "expressive works that make reference in design and content to the ancient culture of Mesopotamia, but also the modern history of Syria."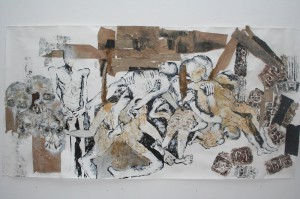 Having the opportunity to meet her in Gothenburg in early June, where she was, among other Assyrian women, invited to a workshop. I had the pleasure to discuss her work with her. Nahrin says about herself that her paintings are the result of a dialectical relationship between the story she wants to tell and the materials and techniques she applies. Her work evolved from creating paintings in black and white to very colorful ones. In addition, she uses stamps, symbols and archetypes with a history of thousands of years, going back to the historical images and symbols of Mesopotamia. "My work is an expression of my re-interpretation of these sources by making use of the different techniques and materials, such as clay, wood, fabric and Styrofoam. These techniques enable me to construct different stories and different paintings in one work. By making use of different techniques, such as ink painting of wood and clay in combination with the use of modern collages, I have been able to bring both of my worlds together: my dreams with the reality, my history with the present and my people with myself."
In Qamishly, being the center of the development of the modern western Assyrian art and music, Nahrin was inspired by the culture of its people. Under the rule of the Baath party, there was no freedom of speech. "In The Netherlands she could express herself for the first time in the way she wanted," says Prof. van Eijl. "She developed new concepts and learned to combine her technical skills with her artistic goals. Nahrin became stronger and stronger in her belief that she had a mission to accomplish — a very engaged mission. She wants to warn people and show them how human rights are destroyed and annihilated again and again all over the world, by reproducing provocative and shameful scenes from history that are engraved in our collective memory. She wants to confront people and make them realize that after centuries of war and human rights abuse we are still not capable of changing our behaviour and make the world a peaceful place to live."
Nahrin affirms that the development among the different Mesopotamian civilizations is reflected in her most recent work. "One can see this for example through the symbols in my paintings. I am inspired by the dynamic process of how our old civilizations developed."
To view more of Nahrin Malki's art work please visit her at Nahrin or Facebook.
By Abdulmesih BarAbraham